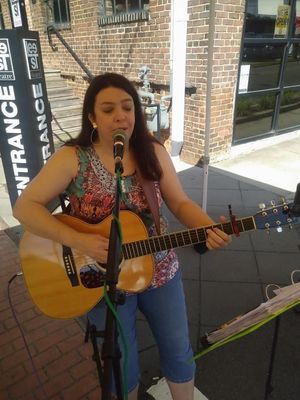 The Salisbury Farmer's Market was a blast!!  CJ Peters was a very gracious and encouraging host and I had a ball being able to perform some originals and a few covers as well.  I also enjoyed doing some impromptu harmonies on a few of CJ's songs along with Tracy Simpson.  Enjoyed every bit of the experience!  The Farmer's Market itself was great...picked up some egg yolk soap, organic muffins and clover local honey.  CJ has a great set up and I so appreciate him allowing me to be a part of the beautiful day in the beautiful town of Salisbury :).  
This was followed by some fun times in the recording studio doing my song for the children's album SSA is putting out this year, and doing harmonies again with Tracy for some songs CJ is recording for his album.
All in all ...a great day of music!