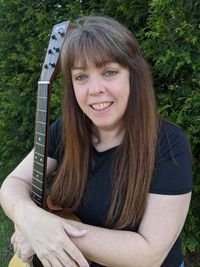 Hello everyone!  
I haven't updated the blog in a while so I thought I would let you know what has been going on :) 
I have been playing the Farmer's Market here in my hometown...one of my FAVORITE places to play because of the people, the local farmers and artisans, and the great fresh veggies!  
I also played Corks, Cooks and Books in Rock Hill, SC last month with four other amazing songwriters.  That was a wonderful night...trading songs, listening to great music, and getting to share some of my songs as well.  What a fantastic place!  Walls lined with books, food that smelled and looked delicious, and the cream soda was yummy!
Another cool thing happened last weekend :) .  I went and recorded my first Tiny Stage concert!  Louis and Karen Beeler are a wonderful couple who have blessed the music world by recording numerous Tiny Stage concerts in Charlotte by local songwriters and broadcasting these on their YouTube channel.  To be frank, I was really nervous!! The release date will be sometime in May. I will let you know when I find out :)  
A friend of mine Saundra Clay took some photos for me this week which was a lot of fun!  Now I have some better photos for publicity, etc.  She is an amazing photographer, and a super sweet lady.
Another friend of mine Carolyn told me about a cool open mic at a local bookstore so she and I went.  Great writers (including Carolyn!) read their original stories, prose, and poetry.  There were two of us songwriters there :)  I always enjoy getting to discover songwriters I have not previously known.  This guy is very talented and I would suggest you check out his music at Soundcloud.  Search for j-q-vay.  Beautiful, peaceful music!
I will be playing this weekend at the Farmer's Market and April 23rd as well . I have been working on writing some new songs and hopefully will get some recordings of those up soon.  
I hope everyone is having a wonderful week filled with joy, love and music!
God bless you!
Pammy Martin