I have waited this long to post about this amazing experience because it was so beyond words for me!  This year the Swannanoa Gathering in Swannanoa, NC could not be held in person as usual.  I mentioned in a previous post that I won a scholarship to attend (whoo-hoo!) and I was disappointed but understood under the circumstances .  I was given the choice to attend virtually this year, or another opportunity to apply for the scholarship and audition next year.  Since "a bird in the hand is worth two in the bush" I decided to go for the virtual experience.
I am saving up next year to go again (hopefully) because this was one of the most wonderful musical experiences I have had in my life!  So many amazing teachers...so much fun...so many new friends...so many songwriters all in one place....it was absolutely breathtaking!  I can't imagine what the in person gathering will be like when this one was beyond my expectations!  To begin with the choices for classes to take were varied and all tempting....I wish I could have had room to take them all honestly!  But four was the limit...so I chose:
Beginning Celtic Guitar taught by Toby McManus
Performance and Songwriting by Vance Gilbert
The Authentic, Believable Singer I by Laurie MacAllister (of Red Molly)
Fingerstyle Arrangements from the Ground Up by Cory Seznec
I highly recommend looking up ALL of these amazing musical artists on YouTube and experiencing their music for yourselves. 
The celtic guitar class was way over my head ....LOL ...but that was okay!  I have my notes and my handouts with guitar tablature and I can keep working towards it.  It was worth it just to listen to Toby play :)  I did come away with some amazing alternate tunings to work with that totally blew my mind.  I am amazed at how much there is to do on a guitar besides what I know....I know that I don't know a fraction of what is able to be done...but to learn the alternate tunings and how to write in them caused me to have entirely new melodies going through my head for future songs :)  Seriously....look up Toby McManus and sit back and close your eyes and be transported to another place :) 
Performance and Songwriting with Vance Gilbert was one of my favorites.  Vance is a great teacher...and I learned so much about performance, and it was great to have someone like him listen and critique a song I have written.  He is down to earth, funny, smart, and just fun to be around .  He has 13 albums he's released so far and has made a huge mark on the folk and acoustic music scenes in general. Over the course of a prolific career that extends back to the early '90s, he's recorded with his good friend Ellis Paul and shared stages worldwide with Aretha Franklin, Shawn Colvin, Arlo Guthrie, the Milk Carton Kids, and George Carlin (150+ shows).  It was great listening to him critique the other students as well because I learned from that too :)   He even did a "response" song on the fly to my song and had everyone laughing with him.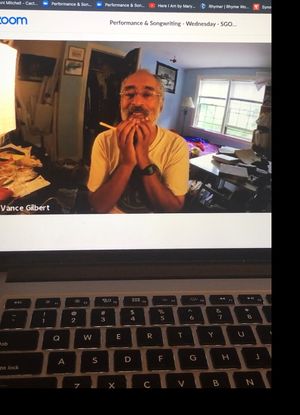 Laurie McAllister also was one of my favorite teachers.  She is part of the group Red Molly and has a beautiful voice!!  She addressed many different parts of singing as each of us shared a song.  Personally, her shared story of stage fright and how to overcome it was a blessing and strength to me.  Such a sweet sweet person also!  A wonderful class!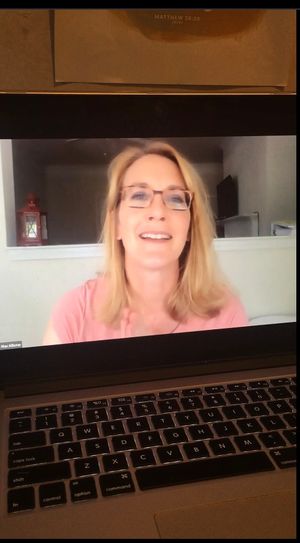 Cory Seznec is an amazing rhythmical guitarist...he taught what he could but there was so much in him left to come out in teaching ...just beyond my level ! :)  I loved the way that he could relate to musicians on different levels of ability all at one time.  One thing I learned and am loving incorporating into my songs is a alternating bass line .  I have always just played the same boring bass line (and sometimes with missing notes :)).  Cory taught us how to achieve a more defined sound with the alternating bass line.  It was a wonderful class as well.  
In the evenings we (the students ) would come together virtually in song circles.  Everyone wherever was most comfortable and in whatever was comfortable (LOL)...I  played in a stairwell with great acoustics one night.  Man, the talent during this week was overwhelming.  Listening to all the many amazing songs and singers...I felt like I floating.  :)
The last night of the Gathering, we enjoyed a wonderful concert put on by our instructors!   Can you imagine?  Not just the four I had...there were many many great teachers and the concert was great !  (Imagine....in comfortable PJs, surrounded by pillows and a blanket on the day bed with the screen up and speakers pouring music into the room) .  A perfect end to a perfect week!
So much learning ....so much joy to my ears...and the experience of sharing it with old friends and making new friends as well.  It was a blessing!