Hello!  
Autumn has come!  My favorite time of the year :)
I have enjoyed playing the summer Farmers market and I am a little sad that it will be a while before I can be sharing songs again with my people there:)
But we will see where the fall breezes take me next:). If you know of a place looking for a singer/songwriter who also does covers....please send me a message and put in a word for me :). 
I had a wonderful time participating in OpenMicAmerica last night.  Such a cool venue! 
OMA is a showcase primarily for the live performance of original songs. They also allow performance of songs published prior to 1925; we call these "Heritage" songs. Shows are two hours, feature 8-10 performers and happen on the 1st and 3rd Sundays at 5:00 PM Pacific Time. 
At showtime, performers meet with the hosts on a private Zoom channel. The show is streamed live to the public on YouTube. The link is on our home page... "Live on YouTube". 
"OMA is intended to be the "big Leagues" for the more accomplished Open Mic performer. The recruiters issue invitations to solid performers. Performers that we haven't "found" yet can gain membership by submitting an audition video. If your material is a good fit for Open Mic America, you will be emailed with a booking date and general Zoom info. A few days prior to the show, you will again receive the same booking email along with a show poster. The day before the show, you will receive a further email with the actual Zoom link that will get you in the show." 
I encourage you to check them out!  They have videos of their past shows on their YouTube channel.  I have found several amazing new artists from listening.   
It is really neat to be part of the interview process too(I am not that good at that part LOL but it is still fun!).  
If you would like to watch me sing a couple of tunes, check this out.  My slot starts at the 12:47 mark but enjoy all the great musicians!  
https://youtu.be/DjL1q7em0Es 
I took a day trip with my family to the Blue Ridge Parkway and took my Martin with me.  I have always wanted to play in the mountains:). It was wonderful! My husband took a few promo pics for me :). Fun fact ...he won a photography contest our county held and his photo was made into a postcard that is for sale at the Visitor Center:).  
I hope you enjoy the colors and beauty of this time of year!  It is truly a gift from God to be able to enjoy His creations! 
Love and music to you!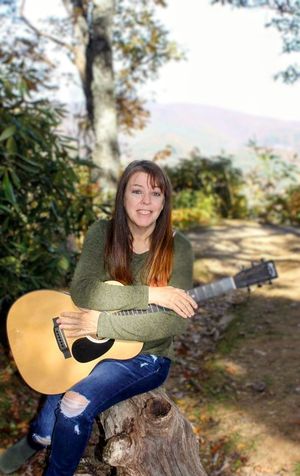 -Pammy