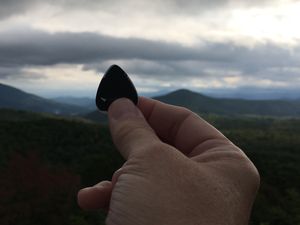 First blog post on my new website :). I always did like a blank sheet of paper and a sharpened pencil.  I am looking forward to sharing this amazing thing God decided to create called "Music".  He is the ultimate creative genius!  And I am so thankful that He made music...and made it with a purpose.  God has used music to help me get through this really tough year of 2020...to encourage, to fulfill, to learn, and to glorify Him and trust Him in the midst of it all.
So... the past two weeks have had some great moments that have brought delight to my life.  My eldest son and I were able to visit with friends Steve Simpson and Tracy Simpson and lay down some vocal and instrument tracks in preparation for meeting with Chris Rosser of Hollow Reed Studio in Asheville, NC to put together a single of a song I wrote last year called "It's A Good Night".  It should be out for downloads or streaming if you want it sometime soon. :) I will add some links to this site when that happens :) 
It was amazing to watch and hear what Chris worked to do to make everything come together on the song!
Anyone who knows me would tell you that I can write LONG letter, LONG posts, LONG emails ...LOL!  But I am going to try to keep these blog posts brief for you :) 
Thanks for visiting my website and you can subscribe to the mailing list...I don't really have anything to send to you right now LOL!  Maybe in the future :) 
 Psalm 98
 Oh sing to the Lord a new song, 
    for he has done marvelous things! 
His right hand and his holy arm 
    have worked salvation for him. 
The Lord has made known his salvation; 
    he has revealed his righteousness in the sight of the nations. 
 He has remembered his steadfast love and faithfulness 
    to the house of Israel. 
All the ends of the earth have seen 
    the salvation of our God. 
 Make a joyful noise to the Lord, all the earth; 
    break forth into joyous song and sing praises! 
 Sing praises to the Lord with the lyre, 
    with the lyre and the sound of melody! 
 With trumpets and the sound of the horn 
    make a joyful noise before the King, the Lord! 
 Let the sea roar, and all that fills it; 
    the world and those who dwell in it! 
Let the rivers clap their hands; 
    let the hills sing for joy together